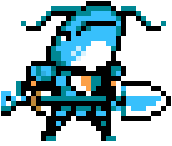 ???? are unnamed minor characters appearing only in Shovel of Hope. They can be seen running through the Armor Outpost, though quickly and rarely.
Appearance
Edit
These unnamed characters wear the same blue Stalwart Plate armor as Shovel Knight. They have removed their helmet though, revealing a blue fish head.
"????: Oh hey how's it going? Ahh, it's nice to get that helmet off sometimes!"
The Custom Knight included with the Shovel Knight amiibo can acquire a costume named Fish Head. This costume replaces Shovel Knight's helmet with the fish head of ????, making them similar in appearance. It also comes with custom dialogue portrait and character model for the map.
With these unnamed characters taking the same appearance as Shovel Knight, many people speculate that Shovel Knight himself is actually a fish head character. It is hinted to be a simple joke put in by the developers.
This is also referenced on Yacht Club Games' s official FAQ, where one of the questions is "Will Shovel Knight eventually become a Mermaid?". They answer: "Oh! I thought you would never ask! We'll just have to see!"[1]
In an official series of merchandise statue by First 4 Figures, Shovel Knight's head can be swapped out with the Fish Head. There is also a golden variant for the Ornate Plate edition.[2] It is still not stated, however, if this is Shovel Knight's appearance under his helmet.
References
Edit
↑ Shovel Knight series of figures on www.first4figures.com