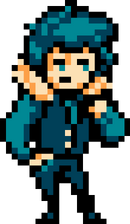 Leo is a minor character in Shovel Knight. While interested in fancy clothing, he is also a skilled player of King of Cards.
Appearance
Edit
Leo wears an elegant blue attire and vest, and has blue hair and eyes. He has an arrogant look.
Shovel of HopeEdit
In Shovel of Hope, Leo can be seen inside the Fancy Shop in the Armor Outpost. He is seen wanting to buy something, but claims he is only 1000 gold short for the purchase. He asks Shovel Knight if he can loan him the needed money. When Shovel Knight pays, Leo purchases the item and leaves the outpost. He later returns after the commotion with Mr. Hat and wonders what happened.
Leo reappears in Pridemoor Keep in the ending, among the reformed court of King Pridemoor.
Plague of ShadowsEdit
In Plague of Shadows, Leo can be seen in the Fancy Shop. He flees with the rest of the townsfolk when Plague Knight attacks the Armor Outpost, and boards the Aerial Anvil during his escape.
He also appears in the ending in Pridemoor Keep, observing King Pridemoor honoring Plague Knight for his feats.
Specter of TormentEdit
In the ending of Specter of Torment, Leo can be seen fleeing from the Fancy Shop as the forces of the Enchantress attack the Armor Outpost.
King of CardsEdit
In King of Cards, Leo is a C ranked card player at the Card Shack and uses a small board (2x2). King Knight has to defeat him in order to move on through the competition.
Shovel of HopeEdit
When talked to:
"Leo: I buy only the best! And for my latest purchase, unfortunately... I'm only 1000 gold short!"
When refusing to lend him money
"Leo: Not enough to loan me, eh? Come now, sir, I assure you I'm good for it!"
When lending him money:
"Leo: Excelsior! Now that I have my purchase, I shall take my leave!"
Returning to the shop:
"Leo: I thought I saw some commotion in here from outside. What happened?"
King of CardsEdit
When talked to:
"Leo: I think I'm pretty fancy. Do you think you're fancier?"
Accepting the duel:
"Leo: Let's find out in cards!"
In the official artbook and the game's files, his complete name is "Leo Grands".[1]
References
Edit
Ad blocker interference detected!
Wikia is a free-to-use site that makes money from advertising. We have a modified experience for viewers using ad blockers

Wikia is not accessible if you've made further modifications. Remove the custom ad blocker rule(s) and the page will load as expected.