Shovel Knight
Developer(s)
Yacht Club Games
Publisher(s)
Yacht Club Games
Platform(s)
PC, Linux, Mac, Steam, Wii U, 3DS, PS3, PS4, PS Vita, Xbox One, Amazon Fire TV, Nintendo Switch
Release date(s)
June 26, 2014
Genre(s)
Platform
Shovel Knight is a platform game developed by independent developer Yacht Club Games for Windows, Mac, Linux, Nintendo 3DS, Wii U, PS3, PS4, PS Vita, Xbox One and Amazon Fire TV platforms, and will be released for Nintendo Switch in Spring 2017.[1] The game was released in Q2 2014. Shovel Knight is being directed by former WayForward Technologies member Sean Velasco, and includes music composed by Jake "Virt" Kaufman and Manami Matsumae.
The Treasure Trove edition, announced for March 2017 on Nintendo Switch and April for all other platforms, contains the main game and all other campaigns, which will also be sold as a stand-alone.
| | | |
| --- | --- | --- |
| " | Long ago, the lands were untamed, and roamed by legendary adventurers! But villainy ran rampant, and in time, even the most stalwart heroes fell. In the absence of champions, The Enchantress and her Order of No Quarter swept into power. | " |
Shovel Knight features four campaigns, each with its own playable character: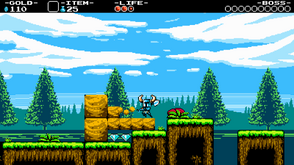 Shovel Knight is a 2D side-scrolling platform game. The game features 8-bit graphics designed to resemble classic games. While the color scheme closely (but not completely) mimics the Nintendo Entertainment System's original color palette, the game features modern graphical techniques, such as parallax scrolling.
The player controls the eponymous Shovel Knight character, who wields a sharpened shovel that is used to attack enemies, destroy barriers, and dig up treasures. As an homage to the game Duck Tales, the player can use the shovel in mid-air to perform a down thrust that can be used to bounce off of obstacles or the heads of enemies, while dealing damage.
| Versions | Windows | Mac | Linux | Wii U | Nintendo 3DS | PS3 | PS4 | PS Vita | Xbox One | Amazon Fire TV |
| --- | --- | --- | --- | --- | --- | --- | --- | --- | --- | --- |
| Digital | Yes | Yes | Yes | Yes | Yes | Yes | Yes | Yes | Yes | Yes |
| Physical | Europe | No | No | Yes | Yes | No | Yes | Yes | No | No |
In Spring with the release of the second boss campaign and the arrival of the Nintendo Switch version, the current editions of the game will be renamed Shovel Knight: Treasure Trove. Each campaign will be then be purchasable individually along with the newly named version. For differences between versions click here.
Characters
Edit
Main Characters
Edit
Downloadable Content
Edit
During the Kickstarter Yacht Club Games promised additional content to be added to the game after launch. The First of these content packs 'Shovel Knight: Plague of Shadows' has been released.
For the rest of the planned content click here.
References
Edit
Ad blocker interference detected!
Wikia is a free-to-use site that makes money from advertising. We have a modified experience for viewers using ad blockers

Wikia is not accessible if you've made further modifications. Remove the custom ad blocker rule(s) and the page will load as expected.