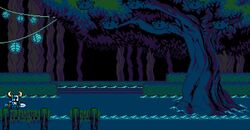 The Troupple Pond is a peaceful area where the Troupple King resides. It is one of the few safe areas in the game, alongside the Village, Armor Outpost, Shortcut? and the Mysterious Area.
The Troupple King, when met for the first time, will ask the Shovel Knight what kind of ichor he would like, as long he has an empty Troupple Chalice, which can be bought from the Troupple Acolyte in the Village. Players may choose from three ichors and store them in the chalice(s) for later use. After choosing, the king will perform a dance with many more Troupples and procede to fill the chalice(s). Filling chalices is free of charge.
On later visits, the player can choose to fill in chalices directly, or rewatch the Troupple dance.
If the player fishes in his pond, he will grow upset, but Music Sheet #10: Waltz of the Troupple King will be obtained. Fishing again will replenish Shovel Knight's health with apples, but it is not necessary.
Unlike in main scenario, Plague Knight can only meet Troupple King after capturing Armor Outpost, at when the female Troupple Acolyte appears and provides one Troupple Chalice to purchase. Otherwise, a Plague Minion will report nothing here.
With the Chalice, Plague Knight will need to watch a different dance by the Troupple King and Troupples. Then, instead of storing Ichor in the Chalice, the King will coat Plague Knight with Ichor, which changes the properties of his cloak in a similar fashion to the Armorer modifying Shovel Knight's Armor. Like the Armorer, the first time applying a new Ichor, Troupple King will charge some fee, and later it becomes free.
On later visits, the player can choose to change cloak directly, or rewatch the dance.
Also by bombing the pond, a scrap sheet will appear along with lots of apples. Bombing the pond with more than one bomb can also reveal apple cores, skulls, or a shiny blue sword.
If player manages to collect all Cipher Coins and make the Pandemonium Chalice, bring it to Troupple King to unlock the ever-changing Pandemonium Cloak.
If the players jumps into the water, a death sequence will play, however it will incur no penalty other than the king yelling at the character.